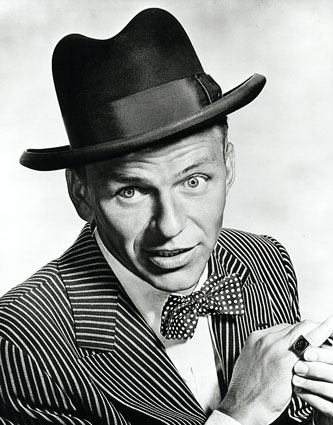 Francis Albert Sinatra, dit « Frank » Sinatra, né le 12 décembre 1915 au New Jersey et décédé le 14 mai 1998 à Los Angeles, est un chanteur et acteur américain. Surnommé The Voice ou Ol' Blue Eyes ou encore The Chairman of the Board, il est un crooner de renom et fut le leader du Rat Pack du milieu des années 1950 au milieu des années 1960. Sa carrière de chanteur (et, occasionnellement, de chef d'orchestre) couvre soixante années de l'histoire de la musique populaire américaine, de la chanson Shine au sein du groupe The Hoboken Four le 8 septembre 1935, (premier enregistrement radiophonique connu) à son ultime interprétation sur scène de The Best Is Yet to Come le 25 février 1995 (si on ne tient pas compte de l'ultime note de la chanson Theme from New York, New York qu'il tint le 14 décembre 1995 à la fin de l'émission Sinatra : 80 Years My Way).
Son style musical oscille entre Jazz, la Variété, le Blues, le Swing, la Bossa Nova et parfois même du Rock, du Twist et de la Disco.
Sinatra obtint l'Oscar du meilleur second rôle dans From Here To Eternity (Tant qu'il y aura des hommes) en 1953. Selon certaines sources, son rôle aurait été obtenu grâce à une pression de la mafia sur le patron de la Columbia Pictures, Harry Cohn. Cette hypothèse est évoquée dans le film Le Parrain, à travers le personnage fictif du chanteur Johnny Fontane.
Il a collaboré avec des artistes célèbres de son époque : Louis Armstrong, Duke Ellington, Johnny Hodges, Dean Martin et Sammy Davis Jr, Ella Fitzgerald, Violetta Villas, Sarah Vaughan, etc
Discographie:
Sa discographie complète
Filmographie:
- Courts et moyens métrages
Dans son propre rôle :
1935 : Major Bowes Amateur Theatre of the Air de John H. Auer
1943 : Show Business at War - The March of Time Volume IX de Louis de Rochemont
1943 : Upbeat in Music - The March of Time Volume X de Frank P. Donovan
1944 : Road to Victory de LeRoy Prinz
1945 : The All-Star Bond Rally de Michael Audley
1945 : The House I Live In de Mervyn LeRoy
1945 : MGM Christmas Trailer de Harry Loud
1947 : Screen Snapshots Series 27, No. 3: Out of This World Series de Ralph Staub
1948 : Lucky Strike Salesman's Movie 48-A
1952 : Screen Snapshots: Hollywood Night Life de Ralph Staub
1956 : Screen Snapshots: Playtime in Hollywood de Ralph Staub
1959 : Invitation to Monte Carlo d'Euan Lloyd (moyen métrage)
1959 : Premier Khrushchev in the USA (moyen métrage)
1962 : Sinatra In Israel
1965 : A Tribute to the Will Rogers Memorial Hospital
1967 : Think Twentieth de Richard Fleischer
1993 : In Person de Stephen Altobello (voix seulement)
- Longs métrages et téléfilms
1941 : Las Vegas Nights de Ralph Murphy (en tant que chanteur de l'orchestre de Tommy Dorsey)
1942 : Croisière mouvementée (Ship Ahoy) d'Edward Buzzell (en tant que chanteur de l'orchestre de Tommy Dorsey)
1943 : Reveille with Beverly de Charles Barton (dans son propre rôle)
1943 : Amour et Swing (Higher and Higher) de Tim Whelan
1944 : Dansons gaiement (Step Lively) de Tim Whelan
1945 : Escale à Hollywood (Anchors Aweigh) de George Sidney
1946 : La Pluie qui chante (Till The Clouds Roll By) de Richard Whorf
1947 : Tout le monde chante (It Happened in Brooklyn) de Richard Whorf
1948 : Le Miracle des cloches (The Miracle of the Bells) d'Irving Pichel
1948 : Le Brigand amoureux (The Kissing Bandit) de László Benedek
1949 : Match d'amour (Take Me Out to the Ball Game) de Busby Berkeley
1949 : Un jour à New York (On the Town) de Stanley Donen
1949 : Madame porte la culotte (Adam's Rib) de George Cukor (chanson originale seulement)
1951 : Une veine de... (Double Dynamite) d'Irving Cummings
1952 : Quand tu me souris (Meet Danny Wilson) de Joseph Pevney
1953 : Tant qu'il y aura des hommes (From Here to Eternity) de Fred Zinnemann
1954 : Je dois tuer (Suddenly) de Lewis Allen
1954 : Un amour pas comme les autres (Young at Heart) de Gordon Douglas
1955 : Pour que vivent les hommes (Not as a Stranger) de Stanley Kramer
1955 : Finian's Rainbow (projet abandonné de film musical d'animation, mais chansons enregistrées avec Louis Armstrong et Ella Fitzgerald)
1955 : Blanches colombes et vilains messieurs (Guys and Dolls) de Joseph L. Mankiewicz
1955 : Le Tendre Piège (The Tender Trap) de Charles Walters
1955 : L'Homme au bras d'or (The Man with the Golden Arm) d'Otto Preminger
1956 : Carousel d'Henry King (a enregistré plusieurs chansons, tourné plusieurs scènes, a abandonné le film et a été remplacé par Gordon MacRae)
1956 : Viva Las Vegas (Meet Me in Las Vegas) de Roy Rowland (apparition - à ne pas confondre avec le film d'Elvis Presley de 1964 du même titre original que le titre français de celui-ci)
1956 : La Haute Société (High Society) de Charles Walters
1956 : Johnny Concho de Don McGuire (également producteur)
1956 : Le Tour du monde en quatre-vingts jours (Around the World in Eighty Days) de Michael Anderson (apparition)
1957 : Orgueil et Passion (The Pride and the Passion) de Stanley Kramer
1957 : Le Pantin brisé (The Joker Is Wild) de Charles Vidor
1957 : La Blonde ou la rousse (Pal Joey) de George Sidney
1958 : Les Diables au soleil (Kings Go Forth) de Delmer Daves
1958 : Comme un torrent (Some Came Running) de Vincente Minnelli
1959 : Un trou dans la tête (A Hole in the Head) de Frank Capra
1959 : La Proie des Vautours (Never So Few) de John Sturges
1960 : Cancan (Can-Can) de Walter Lang
1960 : L'Inconnu de Las Vegas (Ocean's Eleven) de Lewis Milestone
1960 : Pepe de George Sidney : (Caméo)
1961 : Le Diable à 4 heures (The Devil at Four O'Clock) de Mervyn LeRoy
1962 : Les Trois Sergents (Sergeants 3) de John Sturges (également producteur)
1962 : Astronautes malgré eux (The Road to Hong Kong) de Norman Panama (apparition)
1962 : Tempête à Washington (Advise and Consent) d'Otto Preminger (chanson originale seulement)
1962 : Un crime dans la tête (The Manchurian Candidate) de John Frankenheimer
1963 : Le Dernier de la liste (The List of Adrian Messenger) de John Huston (méconnaissable dans un rôle grimé)
1963 : T'es plus dans la course, papa (Come Blow Your Horn) de Bud Yorkin
1963 : Quatre du Texas (4 for Texas) de Robert Aldrich
1964 : Les Sept voleurs de Chicago (Robin and the 7 Hoods) de Gordon Douglas (également producteur)
1964 : Deux Têtes folles (Paris - When It Sizzles) de Richard Quine (chanson originale seulement)
1965 : L'Ile des braves (None But The Brave) de Frank Sinatra (également producteur)
1965 : L'Express du colonel Von Ryan (Von Ryan's Express) de Mark Robson
1965 : Les Inséparables (Marriage on the Rocks) de Jack Donohue
1966 : La Statue en or massif (The Oscar) de Russell Rouse (apparition dans son propre rôle)
1966 : L'Ombre d'un géant (Cast a Giant Shadow) de Melville Shavelson
1966 : Le Hold-Up du siècle (Assault on a Queen) de Jack Donohue
1967 : Chantage au meurtre (The Naked Runner) de Sidney J. Furie
1967 : Tony Rome est dangereux (Tony Rome) de Gordon Douglas
1968 : Le Détective (The Detective) de Gordon Douglas
1968 : La Femme en ciment (Lady in Cement) de Gordon Douglas
1970 : Un beau salaud (Dirty Dingus Magee) de Burt Kennedy
1974 : Il était une fois Hollywood (That's Entertainment!) de Jack Haley Jr
1974 : René Simard au Japon de Laurent Larouche (documentaire)
1977 : Contrat à Cherry Street (Contract on Cherry Street) de William A. Graham (téléfilm)
1980 : De plein fouet (The First Deadly Sin) de Brian G. Hutton
1984 : Cannon Ball 2 (Cannonball Run II) de Hal Needham
1987 : Magnum (Magnum, P.I.) de Alan J. Levi (série télévisée - saison 7 - épisode 18 : Laura)
1987 : Magnum (Magnum, P.I.) de Alan J. Levi (série télévisée - saison 7 - épisode 19 : L'homme du Bronx' / 'Laura)
1990 : Listen Up: The Lives of Quincy Jones d'Ellen Weissbrod (documentaire)
1994 : Young at Heart d'Allan Arkush (apparition dans son propre rôle - téléfilm produit par Tina Sinatra)