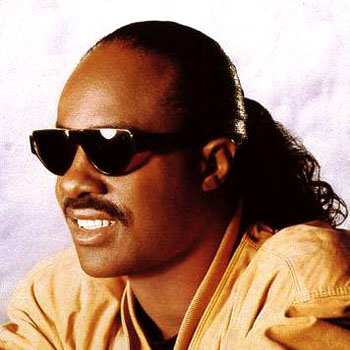 Stevie Wonder (né Steveland Judkins le 13 mai 1950 à Saginaw, Michigan) est un auteur-compositeur-interprète afro-américain. Dès sa naissance, il fut aveugle, mais cela ne l'empêcha pas, sur une carrière de plus de 50 ans, de vendre plus de 72 millions d'albums et de recevoir 22 Grammy Awards. Il sait jouer de la batterie, du piano, de l'harmonica, des percussions et les claviers.
Découvert par Ronnie White, alors compositeur au sein du groupe The Miracles aux côtés de Smokey Robinson, Stevie enregistre pour le label Tamla Motown dès l'âge de onze ans.
Stevie Wonder a au cours de sa carrière composé des chansons devenues cultes comme Pastime Paradise ou Free. Il a eu un énorme impact sur la musique moderne. Par sa musique, Wonder a influencé bon nombre de personnes telles que Stevie Ray Vaughan, India.Arie, Barack Obama, Blackstreet, Gloria Estefan, Musiq Soulchild, George Michael, The Neptunes, Luciano Pavarotti, Tupac Shakur, Will Smith, Coolio, Snoop Dogg, Kirk Franklin, Mary J. Blige, Mariah Carey, Michael Jackson, Babyface, Kelis, Donell Jones, Jermaine Jackson, Janet Jackson, Luther Vandross, N'Sync, Glenn Lewis, Dru Hill, Boyz II Men, Alicia Keys, Eric Hutchinson, Carrie Underwood, Lustevie, Elton John, John Legend, Prince, Anthony Kiedis (chanteur du groupe rock Red Hot Chili Peppers), Sting, Beyoncé Knowles, Aaliyah, Brandy, Justin Timberlake, Ashanti, Shogo Hamada, Jason Kay (chanteur de Jamiroquai), Utada Hikaru, Ken Hirai, Whitney Houston, Major , Wang Lee-hom, Lenny Kravitz, Glenn Hughes, Justin Bieber et Erykah Badu.
Il a aussi collaboré avec de nombreux artistes comme Carly Simon, Busta Rhymes, Quincy Jones, Sting, Ray Charles, Pointer Sisters, Barbra Streisand, Andrea Bocelli, Jeff Beck, Snoop Dogg, Elton John, Lenny Kravitz, Billy Preston, James Taylor, Roberta Flack, Smokey Robinson, Paul McCartney, Tony Bennett, Frank Sinatra, Queen Latifah, The Supremes, Babyface, The Beach Boys, Chaka Khan, Herbie Hancock (Man-Child), Luther Vandross, The Temptations, Gloria Estefan, Andrae Crouch, Michael Jackson, Jermaine Jackson, John Denver, BeBe Winans, Julio Iglesias, Don Henley, Take 6, The Flying Burrito Brothers, Rod Stewart, The Gap Band, 'NSYNC, The Manhattan Transfer, Donna Summer, Eurythmics, B. B. King, Jon Gibson (« Have a Talk With God »), Paula Abdul, Whitney Houston, Dionne Warwick, Raphael Saadiq, Usher, Shakira.
Stevie Wonder était un grand ami de Michael Jackson, il déclara lors du Memorial de son ami : « Le plus important est l'héritage musical qu'il nous a laissé. Nous devons le célébrer et le pleurer. Il ne faut pas tomber dans la négativité ».
Discographie:
The Jazz Soul Of Little Stevie (1962, Motown) -
Tribute to Uncle Ray (1962, Motown) -
With a Song In My Heart (1963, Motown) -
Stevie at the Beach (1964, Motown) -
Up-Tight (1966, Motown) US charts: #32
Down To Earth (1966, Motown) US charts: #92
I Was Made to Love Her (1967, Motown) US charts: #45
Someday at Christmas (1967, Motown) US charts: #81
For Once In My Life (1968, Motown) US charts: #50
My Cherie Amour (1969, Motown) US charts: #34
Signed, Sealed and Delivered (1970, Motown) US charts: #25
Where I'm Coming From (1971, Motown) US charts: #62
Music of My Mind (1972, Motown) US charts: #21
Talking Book (1972, Motown) US charts: #3
Innervisions (1973, Motown) US charts: #4
Fulfillingness' First Finale (1974, Motown) US charts: #1
Songs in the Key of Life (1976, Motown) US charts: #1
Journey Through the Secret Life of Plants (bande originale, 1979, Motown) US charts: #4
Hotter Than July (1980, Motown) US charts: #3
The Woman In Red (Original Motion Picture Soundtrack) (bande originale, 1984, Motown) US charts: #4
In Square Circle (1985, Motown) US charts: #5
Characters (1987, Motown) US charts: #17
Jungle Fever (Music from the Movie) (bande originale, 1991, Motown) US charts: #24
Conversation Peace (1995, Motown) US charts: #16
A Time to Love (2005, Motown) US charts: #5
Live et Compliations:
Recorded Live! - The 12 Year Old Genius (1963, Motown) US charts: #1
Greatest Hits (compilation, 1968, Motown)
Eivets Rednow featuring Alfie (instrumentaux sous le pseudonyme de Eivets Rednow, 1968, Motown)
Live In Person (concert, 1970, Motown)
Stevie Wonder Live (concert, 1970, Motown)
Stevie Wonder's Greatest Hits Vol. 2 (compilation, 1971, Motown)
Looking Back (a.k.a. Anthology) (compilation, 1977, Motown)
Stevie Wonder's Original Musiquarium I (compilation, 1982, Motown)
Natural Wonder (double album en concert, 1995, Motown)
Song Review - A Greatest Hits Collection (compilation, 1996, Motown)
Ballad Collection (compilation, 1999, Motown)
At the Close Of a Century (coffret quatre disques, 1999, Motown)
The Definitive Collection (compilation, 2002, Motown)
The iTunes Stevie Wonder Boxset (compilation iTunes, 2005, Motown)
Number Ones (compilation, 2007, Motown)
Live At Last (concert, 2009)